Mannit-Kochsalz-Agar nach harm. EP/USP/JP (MSA)
| | |
| --- | --- |
| Shorthand symbol: | MSA |
| Item number: | 40-1166 |
| Format: | Petri Dish, 90mm |
| Colour: | Clear and strong pink |
| Storage conditions: | Dry, in closed bag, at 15-22°C |
| Shelf-life: | 3 Months |
| pH: | 7.4 ± 0.2 bei 25°C |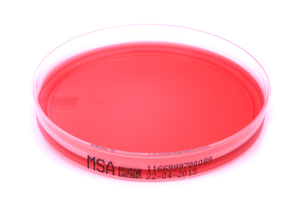 Test for Staphylococcus aureus. Nutrient medium for microbiological analysis of sterile products. Medium complies with the requirments in the EP/USP/JP (2006).
in g per 1 litre of Nutrient medium
Pancreatic-digest of Casein peptone
5
Pancreatic-digest of Beef Peptone
5
Beef Extract
1
D(-)-Mannitol
10
Sodium chloride
75
Phenol Red
0.025
Agar
15
*Adjusted as required to meet performance standards
The microbial performance test carried out in conformity with the requirements of Pharm. Eur. (Microbiological Examination of non-sterile products according Chapter 2.6.13).
Productivity
Incubation conditions: 18 hours at 30–35°C; Inoculum concentration: 10–100 CFU
Organism
Type Strain
Specification
Colony morphology
Staphylococcus aureus
ATCC 6538/WDCM 00032
Good growth
Yellow colonies
Selectivity
Incubation conditions: 18-72 hours at 30–35°C; Inoculum concentration: > 100 CFU
Organism
Type Strain
Specification
Colony morphology
Escherichia coli
ATCC 8739/WDCM 00012
Complete inhibition
-
Microbial Contamination
Incubation conditions: 5–7 days, 20–25°C and 5–7 days, 30–35°C
Specification
No microbial contamination