Galle-Äsculin-Azid-Agar (GÄA)
| | |
| --- | --- |
| Shorthand symbol: | GÄA |
| Item number: | 40-1276 |
| Format: | Petri Dish, 90mm |
| Colour: | Yellowish |
| Storage conditions: | Dry, in closed bag, at 4-10°C |
| Shelf-life: | 4 Months |
| pH: | 7.1 ± 0.2 at 25°C |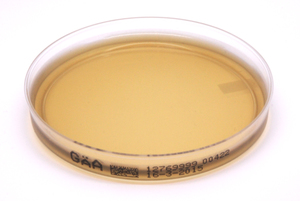 Bile Aesculin Azide Agar allows the selective isolation, determination and enumeration Eterococci species in water and other study materials. It is also used for the confirmation of suspect colonies of the Enterococci species selectively isolated on Slanetz & Bartley Agar medium.

in g per 1 litre of Nutrient medium
Casein peptone (Tryptone)
17
Peptone
3
Yeast Extract
5
Bile salts, dehydrated
10
Sodium chloride
5
Aesculin
1
Ammonium Ferric(III)citrate
0.5
Sodium azide
0.15
Agar
12
*Adjusted as required to meet performance standards
The Microbiological Performance Test is carried out in accordance with the requirements BS EN ISO 11133:2014.
Productivity
Incubation conditions: 44±4 hours at 36±2°C; Inoculum concentration: 80-120 CFU
Organism
Type Strain
Specification
Colony morphology
Enterococcus faecalis
ATCC 19433/WDCM 00009
50–130 %
Black colonies
Enterococcus faecium
ATCC 6057/WDCM 00177
50–130 %
Black colonies
Selectivity
Incubation conditions: 44±4 hours at 36±2°C; Inoculum concentration: 10.000-1.000.000 CFU
Organism
Type Strain
Specification
Colony morphology
Staphylococcus aureus
ATCC 6538/WDCM 00032
Complete inhibition
-
Escherichia coli
ATCC 8739/WDCM 00012
Complete inhibition
-
Microbial Contamination
Incubation conditions: 5–7 days at 20–25°C and 5–7 days at 30–35 °C